In 2010, I was given a new mission in the computer field: Web Design. This was right up my alley. I loved designing things and computers never cease to amaze. I had been playing with my own sites for a couple of years writing them by hand in HMTL and they looked pretty good. However, trying to make changes was a nightmare, as each page had to be rewritten. So, I needed to move to a content management system (CMS) which was database driven. This way, changes could automatically be made throughout the entire site.
After a lot of research, the Drupal open source CMS system was chosen. The learning curve just rose a whole lot of notches. The design choices became endless. After a year of playing with my own websites, I was ready to take on clients. It was decided to not only design the websites, but to offer a monthly maintenance program to maintain them. So, each year one or two new websites were designed for clients. It's nice to have the time to do things right.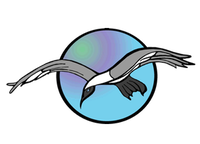 At the same time, I also developed this website with a two-fold purpose: to advertise the web design services and to provide free education to help other small business people learn what they need to know to succeed.  The type of information I wish I would have had 40 years ago.
With the new direction of the business decided, a new logo was commissioned to update my look. A new slogan was written to underscore the new mission, 'Custom Support Services for Small Business'.
After nine years, it was decided to close shop on the web design services.  Not because I didn't enjoy designing them or the continual learning it involved keeping up to date on this fast-moving field.  I just realized that I am getting quite a few grey feathers and would like to do some traveling to see the world.  You can't really do that if you are a one-bird shop in this type of business.  So I found my clients new homes and said thank-you.
That doesn't mean I retired.....
---