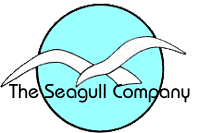 With the demise of the entertainment venue, I thought I would be forgotten. Fortunately, one of my creators decided to keep me alive and I became The Seagull Company.
I was used for a variety of income producing and marketing activities. There were two primary businesses it was used for: Lawn Care Services and several Network Marketing companies.
For a couple of years, he took care of several people's yards and experimented with some simple landscape designs to earn additional income. Of course, it was only seasonal work and Nebraska in the summer is HOT. I can certainly appreciate anyone I see doing that job for their entire lives.
To have some fun, I even got to sponsor a bowling team!
I was also used to represent a series of home businesses over the next decade, including cleaning supples, bee pollen products, art & home design products, vitamin products, water products and probably several others I'm sure I have forgotten. Watching all this, I discovered one thing: Multi-Level-Marketing (Network Marketing) is not a very good business model.
In 1982, I got thrown in the car and moved to Colorado. In addition to more failed network marketing companies, I was used to represent a janitorial company for a little over a year. The biggest problem with that business was finding good employees. Another business that my hat is off to anyone that is successful with it.
---